Today, I would like to introduce a wonderful resource for Food Photography, the book by Nancy Lopez Mc-Hugh, titled deliciously intriguing, Yummy Pics.
When I started out as a food blogger, I came across other talented bloggers scattered around the world.
Back then my goal was to drastically improve my food photography and styling and of course this is a never ending learning curve.
That's when I got to know Nancy Lopez-McHugh.
I admired Nancy's photography, especially because she was one of the first to take dark, moody, dramatic food photos.
Her photos at her former food blog, spiciefoodie.com, which is now Mexican Made Meatless, where the reason why I got better and later Nancy helped us all to work on our skills by publishing her successful Yummy Pics Photography book.
Yummy Pics is a book nut just for those who start out learning about food photography and styling, but it's also a jewel of knowledge for a seasoned food photographer.
I frequently catch myself looking up something when I need some inspiration.
The book is compiled in different useful chapters, which are all required to understand and put together the puzzle of successful, drool-worthy food photography.
A professional food photo can help you decide if you want to unconditionally have a dish in this very same instance or not.
The book has a few chapters, which will give you some orientation and help you to understand the world of food photography better.
The first chapter will help you choose the right camera for you.
The second chapter focuses on the different Camera modes and how to use them.
I think as a beginner the details and tips are gold if you want to learn properly about this field.
Chapter 3, 4, 5 and 6 go deeper into vital photography topics.
You get great tips about image quality and sizing, you learn about white balance and what it does to your photos and Nancy shares valuable thoughts on exposure.
Exposure is something I tend to play with lots in manual mode.
It gives me control over the light entering the lens and you can create great effects by delaying the shutter speed for instance.
Nancy gives her experienced perspective, shares her words of wisdom and all that without technical jargon.
Chapter 7 is completely dedicated to light.
After all light is king in photography and if you know how to use and manipulate it, then you can create truly amazing photos.
Nancy focuses on explaining how light affects your photo when it enters from different sides.
Her tips at times are quite intriguing. I enjoyed her example of using a regular table lamp with a 45 Watts bulb, to achieve a certain effect or her wisdom about light directions in photography.
For somebody who has been blogging for almost 6 years now, I tend to look out for more advanced tips – Yumy Pics – gives us a unmatched food photography, composition and food styling guide.
Whenever I need an idea I refer to Nancy's composition wisdom, I own other food photography books but Nancy's yummy pics has a down to earth approach which is timeless.
Basically I think any serious photographer could learn important lessons from her book.
Yummy Pics included tips which cover common issues and problem while shooting such as lightning, exposure, placement and styling.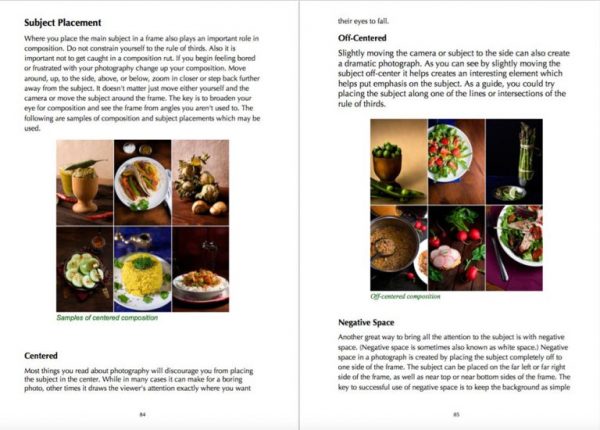 For example the other day I hopelessly took a picture of a dish but I wasn't feeling that inspired for some reason.
So I went to look up Yummy pics to get gather some mojo and to solve my problem.
While I fixed my lightning issue by using a higher ISO number, I still had my issues with the food styling and that's where the "Building up styling and dish walk through helped me out a lot".
Knowledge shared in Yummy Pics can't be found on a blog online.
The tips are detailed and literally help you learn to solve a photography problem so that you improve your skills dramatically.
I also enjoy in the book, that Nancy is sharing tips to photograph different kind of foods.
I always found it challenging taking pictures of flat soups and curries, Yummy Pics can give you great suggestions!
The book Yummy Pics is resourceful and the author mentions many unspoken tips and tricks, plus she gives us a chance to take a look at her work flow. I full heatedly recommend Yummy Pics, it's worth every cent!
You can buy Yumy Pics as an eBook or get your hard copy now.
Save
Save