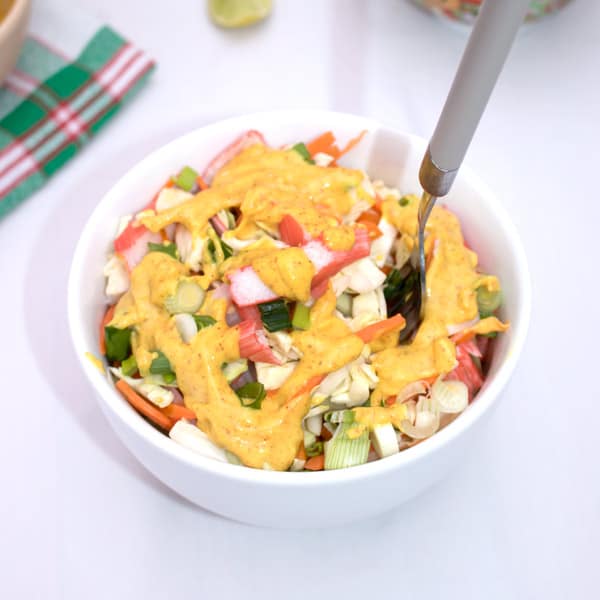 Print Recipe
Easy Crab Salad Recipe
The easy crab salad recipe comes together in 5 minutes. Just cut the cabbage, carrot, spring onion/scallion and crab meat small. Try to cut the crab meat into bite-sized pieces. Toss everything together, mix the dressing and pour the dressing over the salad. Ready and delicious seafood salad!
For the Crab Salad Dressing:
Keep a Salad bowl ready on the side. Cut your imitation crab sticks into bite size pieces and place into the salad bowl.

Chop your cabbage small, cut your peeled carrot into matchsticks and add the cut vegetables to the cut crab into the salad bowl.

If you use spring onion/scallion cut into slices, if you use chives chop or slice small and add to the salad bowl. Toss all the ingredients in the salad bowl together.

To prepare the dressing for the crab salad, mix the mayo with the curry powder in a bowl. Then add the juice of the lime/lemon and mix to a smooth dressing. The dressing should be still creamy thick.

Pour the dressing over the crab salad ingredients and toss everything well.

Serve cold as a salad or use in a sandwich, stuffed in a bun or in a wrap.
If you get fresh crab meat, then, by all means, use that cooked in this salad. Just boil the meat in the crab shell and pick out the meat once cooked and prepare the seafood salad as you would do with the imitation crab.
You can use scallions/spring onions or chives, whichever is in season and available in your local market. Pick the one you prefer.
For the dressing, if you don't like a spicy dressing with the curry, then just skip adding the curry powder to the mayo dressing. Add instead the curry powder, salt, and pepper to season.
To make the dressing you can use also homemade Mayo instead of store-bought mayonnaise.
In the dressing, we include lime or lemon for flavor. Don't add too much lemon/lime juice as the dressing might get very liquid. The dressing needs to be creamy, so either ad the juice of one small lime or juice or 1/2 a bigger lemon. It depends also on the variety of lime/lemon.
Double the ingredients to prepare to stand alone servings
Serving:
313
g
|
Calories:
261
kcal
|
Carbohydrates:
15
g
|
Protein:
3
g
|
Fat:
21
g
|
Saturated Fat:
3
g
|
Cholesterol:
14
mg
|
Sodium:
286
mg
|
Potassium:
408
mg
|
Fiber:
5
g
|
Sugar:
7
g
|
Vitamin A:
8530
IU
|
Vitamin C:
52.1
mg
|
Calcium:
78
mg
|
Iron:
1.4
mg