#Sundaysupper has taken the retro food road and I am introducing you to the mysterious Currywurst lands!
A dish that found it's way for Sunday suppers in people's homes back in the 50 and 60s in Germany.
Spaghetti with Currywurst Sauce.
A faux pas of the crazy hippy time?
Maybe, but I found a way to bring it back to life by fixing the flavor likings more to our time frame.
First of all what is a Currywurst?
Curry is not the Indian Curry gravy (more about that here) and wurst is the German word for sausage.
Back in the 50s, the after war time, a lady in the northern parts of Germany apparently discovered accidentally a dish called the Currywurst.
Nowadays it is a German street food and fast food.
If you go to Germany, especially the northern parts, you will find a little snack stand where they sell that stuff.
For the love of Currywurst
A spice blend is mixed into a tomato base sauce, the white or frankfurter style sausages are fried and the sauce is poured over the sausages.
As simple as that, but what an addictive dish and anything comparable to the Indian style spice amounts in dishes!
Meeta from "What's for lunch Honey" wrote a detailed article about the mighty Currywurst here.
It explains its origin and even taking the reader on a virtual trip through the Currywurst capital, Berlin.
You can find a nice little Currywurst recipe on her page as well.
Petra Foede from "Kulinarische Zeitreise" had listed up a couple of weird dishes from the time.
The blog is in German but if you see the pictures you will understand why the 50s and 60s were famous for so many insane food creations.
I mean some dishes would be anything but a turn on.
I believe the Curry sausage pasta is a very interesting Sunday supper idea.
Stuffed with mild spicy tangy and sweet flavors, it opens another food fusion window in this world.
The recipe has been tweaked dramatically, simply because I believe it is a dish that needs a worldwide resurrection from the forgotten food trials of the past.
My husband loved it, and he is the most difficult person to satisfy with food (I am not joking!).
The Spaghetti sauce literally tastes like a hot Currywurst plate made in Berlin.
If you are looking for a new pasta sauce, you have just found it here.
Dear Reader, did you try the Recipe?
Please feel free to share your thoughts and ideas with us in the comment section further below!
PIN to save for later!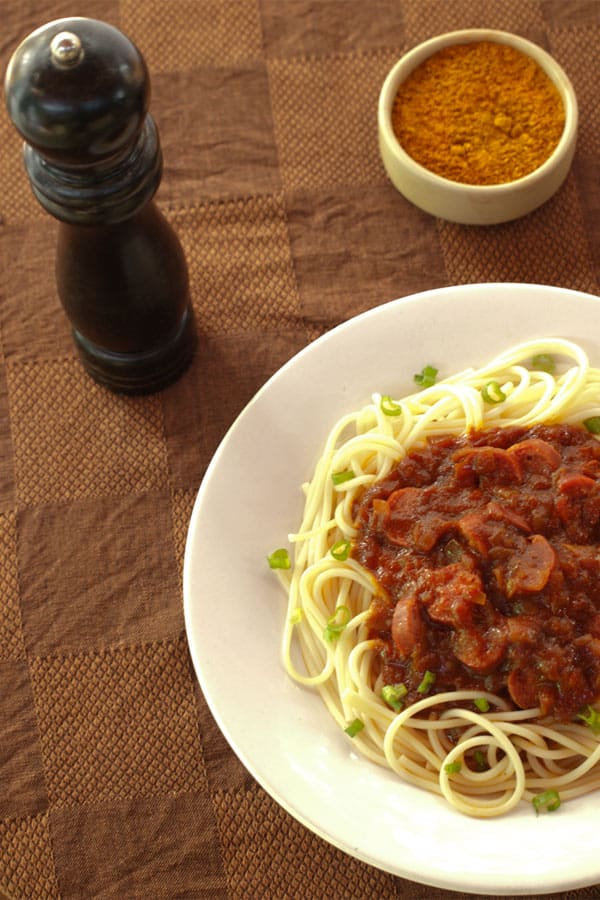 So you love SPICES and HERBS?
GET 5 FREE SEASONING LESSONS
Type in your email address below.
Including free access to the
Seasoning Members only Club!
Ingredients
~100 grams Spaghetti pasta

Sausages

Vienna Sausage, Strassbourg Sausage, St.Johanner or White Münich Sausage. (I found some sausage resembling Frankfurter here in Goa called Deutsch Frank)

1

big Onion

Olive oil to fry

1 ½

Tablespoon

Curry Powder

100

milliliter

Tomato Puree

80

milliliter

Tomato Ketchup

best original Heinz or even better homemade Ketchup

200

milliliter

Water

3

Tablespoon

dark Balsamic Vinegar

1

Teaspoon

mild Paprika powder

pinch

Salt

pinch

Black Pepper

1 ½

Tablespoon

Honey

dash dark liquid Soy Sauce

chopped chives for garnish
Instructions
Boil the pasta first by keeping a pot with Salt Water to boil. Add the pasta only when the water is boiling and do not cover! (I am pointing the finger at my brother here). You can boil the Sausage with the Spaghetti together or you can fry the Sausage separately, that's up to you. Once the sausages are cooked, slice them and at them to the sauce and pasta later on while serving.

Chop your Onion very fine, add some olive oil to the pot and fry the Onion translucent. Then add the Curry spice mixture and stir fry for a minute.

Pour in the Tomato paste at this point, together with the Ketchup and stir fry for a minute. Pour 100 milliliter of the water into the pot and stir well. Keep the other 100 milliliter of water at the side for the end.

Throw in the Balsamic Vinegar, the Paprika powder, salt, pepper, honey and soy sauce. Stir and cook for 3 minutes and pour in the remaining of 100 milliliter.

Cook for approximately 10 minutes or until the sauce thickens. Garnish the pasta, sauce and sausage pieces with chopped chives.
Notes
The Currywurst Sausage pasta sauce was adapted and inspired from here => http://petrafoede.de/blog/wp-content/uploads/2010/09/spaghetti-mit-currywurst.jpg
This post may contain affiliate links that point to things or services that I recommend. This may include Amazon, getyourguide and booking.com. As an Amazon Associate I earn from qualifying purchases.