I don't know why I took so long to create this post.
It was about time for a pasta sauce recipes collection, no?
Who doesn't end up cooking pasta frequently in this world?
I believe, and I am quite certain, that nearly everybody in this world eats or cooks pasta every week at least once every two weeks.
Ok, for sure in Asia Chinese fried rice and ramen noodles are more common, but the western world fell in love with the complex Italian pasta story, so that we all turned into pasta eating machines.
It's not surprising, then half the world has no time to cook a complex meal during weeknights.
When we come home from a long day, we want to have food fast and a whole lots of younger and older people don't live anymore in big family communities where a few chosen once prepare the every day meal for over a group of 10 people.
No, we busy bees of the cities and developed world of possibilities have 2 options, either we look up a take away and restaurant or we finish the day with a homemade pasta.
Of course, the latter shouldn't empty your pockets that easily compared to the food from outside option and another plus point is that you can adjust the dish to your flavor preference.
Nowadays you get all kinds of different hard pasta types from Spaghetti to macaroni, from yellow to red and from whole wheat to egg free.
You just add them to a pot of cooking salt water, let it cook for 8 minutes, strain and they are ready to be topped with a flavor bursting pasta sauce of your choice.
I am aware of the fact that some of you prefer the conventional, traditional pasta sauces, which of course is not necessarily my field.
I also know that some of you are looking for new pasta sauce taste experiences, for something new!
Therefore I thought I d compile a list of the coolest pasta sauce recipes from my Food Blogger friends and of course including some of my own.
You can choose between traditional, new style, fast, slow cooker and even Vegan Pasta Sauce Recipes.
To get to each recipe just click on the Dish title or picture, that should lead you to your aim with more pictures and explanations, so that you get your recipe right!
by Spabettie
~~~
by Spabettie
~~~
~~~
Vegan Alfredo Sauce
by Jewhungry
~~~
One Pot Pasta
by Modern Christian Homemaker
~~~
Lemon Pasta Sauce
~~~
by Shockingly Delicious
~~~
Sausage Meatballs with Red Gravy
by Cupcakes & Kale Chips
~~~
by The Lemon Bowl
~~~
by Juanita's Cocina
~~~
by noble Pig
~~~
~~~
Cashew Truffle Cream Sauce
by Savory Simple
~~~
Bolognese Sauce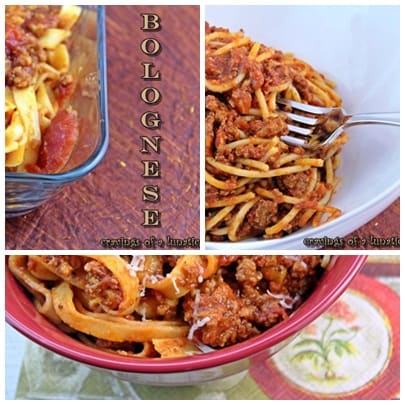 by Cravings of a Lunatic
~~~
by Farm Fresh Feasts
I would like to thank all my Food Blogger friends for sharing their Pasta Sauce Recipe photos with us here today and for making this collection possible in the first place.
You guys Rock!
I hope my dear reader you found something to try soon.
The Recipes are straight forward and simple to recreate, making them the perfect go to weeknight meals.
Which of the above mentioned Pasta Sauces is your favorite and which one would you like to try next?
Please feel free to share your thoughts and ideas with us in the comment section further below!
So you love SPICES and HERBS?
GET 5 FREE SEASONING LESSONS
Type in your email address below.
Including free access to the
Seasoning Members only Club!