Ever wondered, what the difference is between a Tart and a Quiche?
I had already pondered about this question and had come to my conclusion that was, a quiche is only savory and egg and cream is added.
A Tart on the other hand can be sweet or savory and no egg and cream is added here.
BUT, there is an exception, one Tart that brought me to the conclusion that I had to scramble those thoughts again.
You might remember the traditional northern french Onion Tart that I had posted a while back.
This particular Tart includes egg and cream.
Now, how does it come that this Tart isn't defined as a Quiche?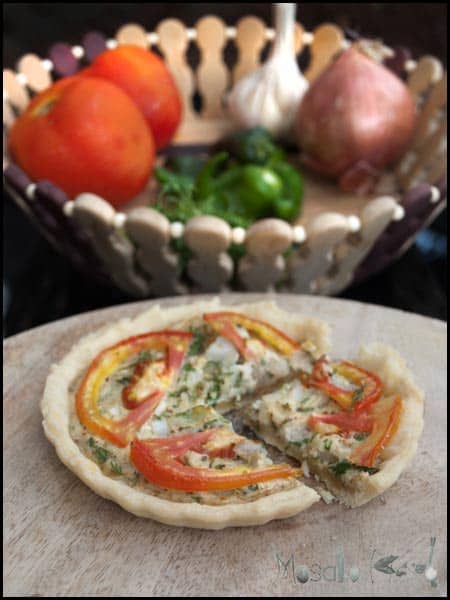 I like to label my dishes correctly so that you, my dear readers can find them easily in the Index.
Even for Google users to have an easy search experience.
Here I was, with a new Chili Quiche/Tart (or whatever it was).
Thoroughly confused about the dish's name and the irony of the French language.
Wondering which category is more suitable... Quiche or Tart.
Is it a Quiche or a Tart?
For me, a quiche is something like the ever famous Quiche Lorraine.
It contains a ticker layer of cream and Eggs, but these mini goodies have only a thin layer of the latter.
So, I decided to ask the master, my all-knowing french mother.
Even she was at a loss and in fact, she hadn't bothered about the difference before.
During my research What I found, was that many more people seemed to have the same question.
Many of the answers concluded that my thinking couldn't be that wrong!
I realize how much I am missed my grandmother, she would have known an answer to this dish naming dilemma
Anyway, the chili in this recipe will surprise you.
How to make this quiche/tart?
Expecting fireworks from the heat of the chilies, you will realize that it is anything unlike that.
Of course, if you add more chilies then you might just end up with a very hot and spicy Quiche/Tart.
I did limit the green devils to 3 small home grown chilies, yet it is edible and enjoyable for non traditional spice eaters.
Coriander was included as well, giving it a great Indian twist with garam masala and other ingredients.
If you are a coriander hater, then I may suggest that you exchange it with some fresh flavorful Parsley.
Besides I know for once that coriander isn't always available everywhere, so Parsley will save you in that case.
I baked the dish in 2 steps, first the shortcrust alone for about 10 minutes and then the whole assembled savory pastry for another 20 minutes.
I prefer to do it this way, so to make sure that the shortcrust is properly baked and to ensure the Egg cream mix doesn't get over baked.
Just follow the steps and you will soon have your own creative freshly baked fusion Tart (sorry I meant Quiche!) in your hands.
Any questions, don't hesitate to ask me.
Please feel free to share your thoughts and ideas with us in the comment section further below!
So you love SPICES and HERBS?
GET 5 FREE SEASONING LESSONS
Type in your email address below.
Including free access to the
Seasoning Members only Club!
Ingredients
For the Short crust:
200

g

White Flour

100

g

Butter

pinch

Salt

little Water
For the Quiche Filling:
1

Onion

3

Tbs

chopped fresh Coriander

3-9

Green Chilies

According to your heat preference and chilli size/type

6

big Garlic cloves

2

Tomato

2

Eggs

100

ml

Liquid Cream

pinch

Salt

pinch

Black Pepper

2

teaspoon

Garam Masala
Instructions
For the Short crust pastry mix the flour and salt first then add the soft butter and mix it in with your hands. Add little water (2-3 Tbs) and work the dough out. The dough should not be too soft! Keep in the fridge for 30 minutes.

Chop the Onion, the Garlic and the Chilli small. Mix the veggies! Cut the tomato slices and keep aside.

Take out your short crust from the fridge, roll it 3 mm thick out. Preheat the oven at 180 C.

Take the baked shortcrusts in your hands and fill it with 1 Tbs of the Veggie mixture. Pour 3 Tbs of the egg cream mixture on top and place the Tomato slices to decorate as shown. Do that with all the others as well. If you are using one big Quiche mold then empty the whole veggie and egg cream mix on top and decorate with tomato to your liking.

Bake them for about 20 more minutes at 180 C.