Great selection of Amuse Bouche Ideas! There is something for everyone.
Discover useful bite-sized hors d'Oeuvres, veg, and non-veg recipes, and tiny party food appetizers.
Get inspired by these cute and delicious little bites.
Don't know what amuse-bouche are?
Read further below and learn how to use these amazing little bites to entertain your guests.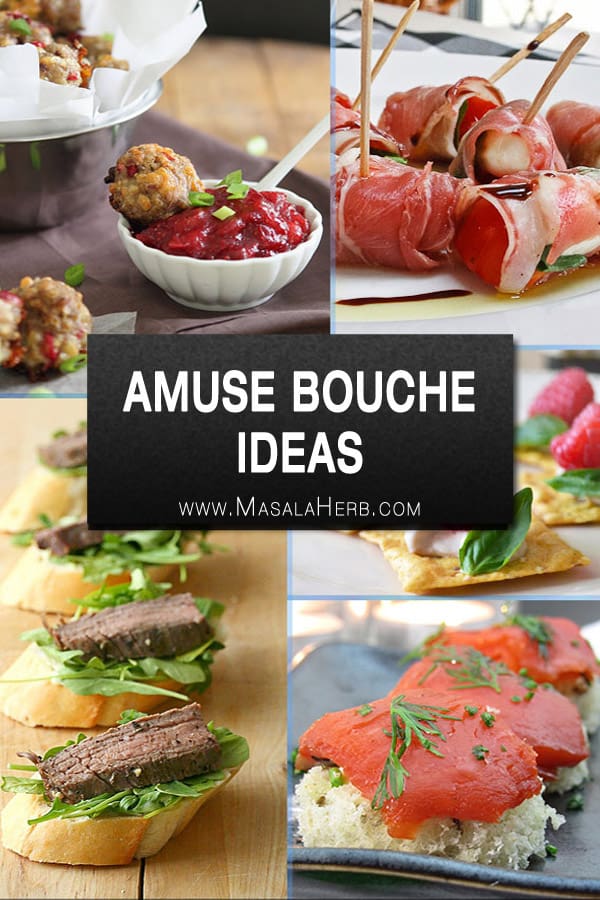 Global Food Recipes
with Spices and Herbs
Free E-Book available for a limited time. Grab yours now and get instantly inspired!
Jump to:
Back in Europe, my mum would always prepare delicious new New Year's Eve appetizers, she had a great repertoire of amuse bouche ideas.
She would usually make canapé with caviar or salmon and my dad would take out the apéritif and the champagne or Prosecco.
The little lucky charms such as marzipan pigs, chocolate coins, horseshoes, lucky clover, and red mushrooms would have to wait until after midnight.
Then we would exchange wishes, enjoy the goodies and take in the rest of the night, always with various party foods somewhere nearby!
Since I can remember, my grandparents would honor us with their presence and we would celebrate Silvester night together.
We would wander out into the icy snow-covered garden with our cold drinks at midnight.
While looking at the few fireworks in the sky munching on delicious amuse-bouche.
We would play a round of Scrabble and enjoy another load of quick and delicious bite-sized appetizers until we would finally go to bed exhausted but happy.
📕 What are Amuse Bouche?
Amuse Bouche is French and means, directly translated, to entertain the mouth.
With that, they mean to entertain the senses with a small bite-sized appetizer.
There is another similar word that means the same thing, Amuse gueule (which however sounds a bit rude as with gueule we mean an animal's mouth), but you do better sticking to using the word amuse-bouche.
Amuse-bouche are tiny party foods that are meant to entertain the crowd before the main meal on a special occasion.
So you can also call them Hors d'Oeuvres as well.
Amuse bouche ideas that are the most popular, are very flavorful or eye-catching and super creative at the same time.
You should be able to hold the food bites with one hand, hence tiny mini food appetizers.
They can be canapés (bread or crackers topped with savory food), balls/croquettes, skewers, deviled eggs, savory cookies, food wrapped in bacon, etc.
Amuse bouche ideas can be endless, as you will see further below.
In fact, you will be surprised what can be turned into savory Hors d'Oeuvres!
Nowadays an amuse bouche should not only taste good but amaze the crowd.
The beautiful food decoration and thoughtfulness of the amuse-bouche towards a special theme or occasion is important.
That is why I thought it would be nice to share a collection of little amuse-bouche ideas.
My food bloggers shared their ideas with me and I handpicked the best amongst them.
These Amuse bouche ideas can be prepared for any occasion, all year round.
Note: The post, Amuse Bouche Ideas, was first published on 29th December 2013 and has been updated ever since.
Smoked Salmon Appetizer Bites with Dill Sour Cream
Cold smoked salmon appetizers to serve a crowd this holiday season.
Get the Recipe
~~~
Quick Salami Appetizer
Quick salami appetizer for your next party. Entertain your guests with these quick delicious bites. 5-minute prepping time and low-carb approved.
Get the Recipe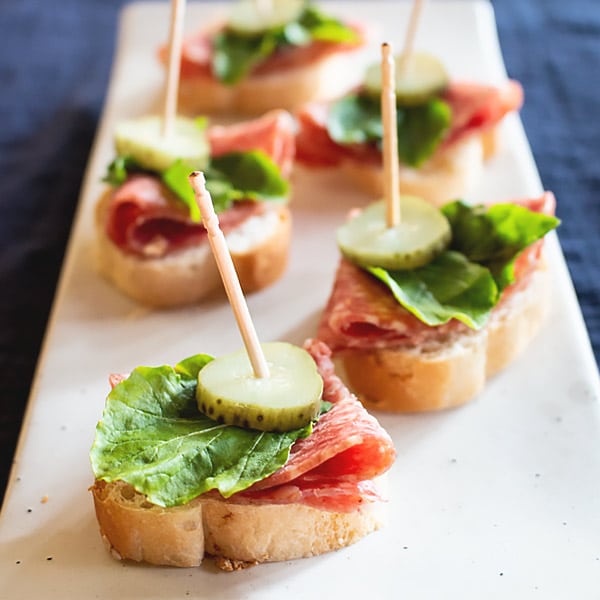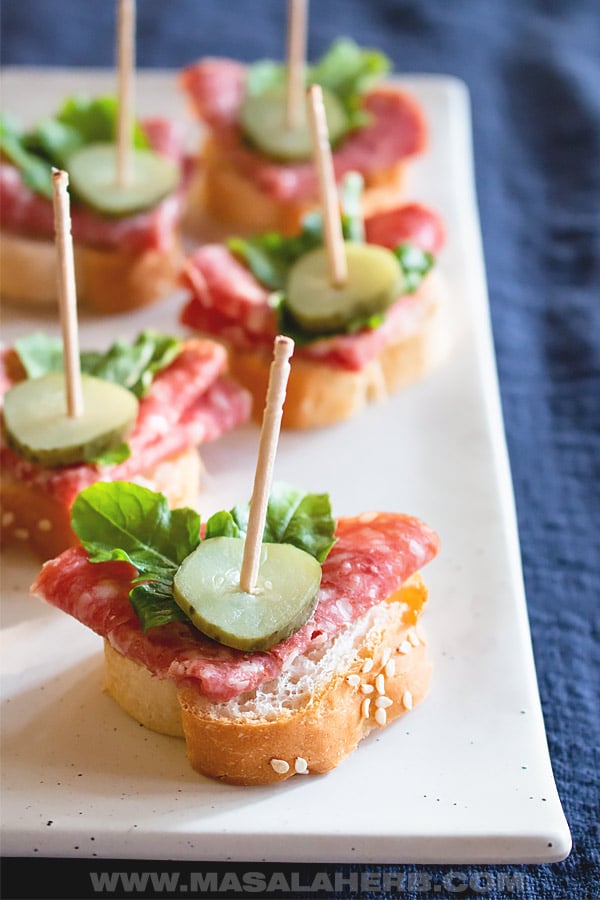 ~~~
~~~
~~~
Bacon Wrapped Little Smokies Recipe
Quick and easy little smokies sausages wrapped in crispy baked bacon.
Get the Recipe
~~~
~~~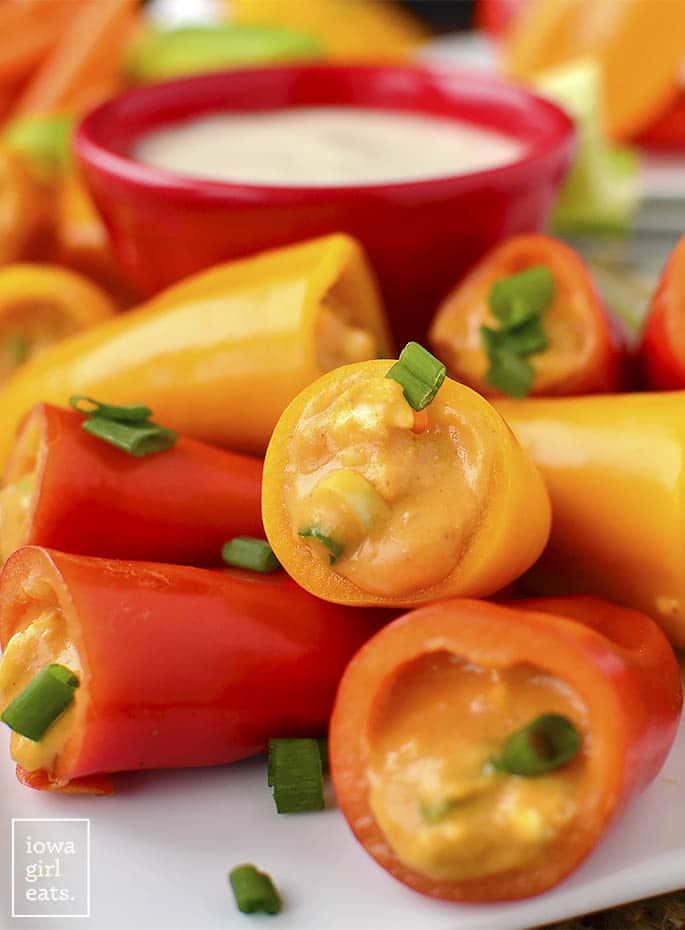 ~~~
Beef Liver Pâté Recipe
Prepare this low carb Liver Pâté and store it in an airtight container for up to 3 days!
Get the Recipe
~~~
~~~
~~~
~~~
~~~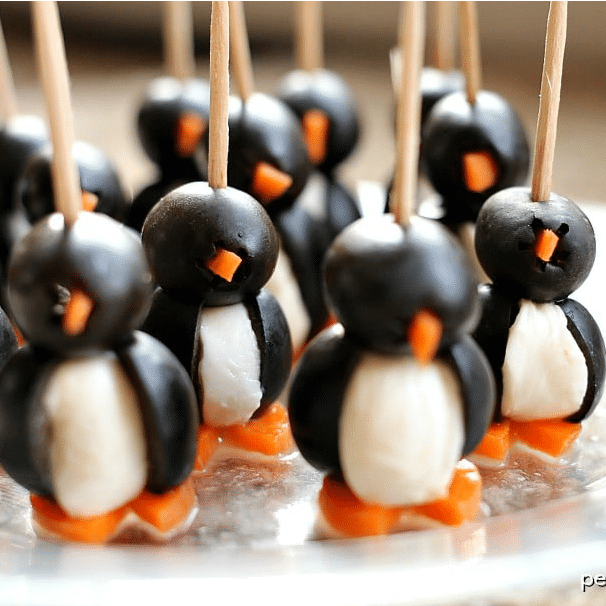 ~~~
Asian Meatballs with Minced Pork and Beef Recipe
Complex flavors make these pork and beef meatballs extraordinary! Make these quick and easy Asian meatballs to serve as a sticky party appetizer. One-bite low-carb crowd-pleasing meatballs!
Get the Recipe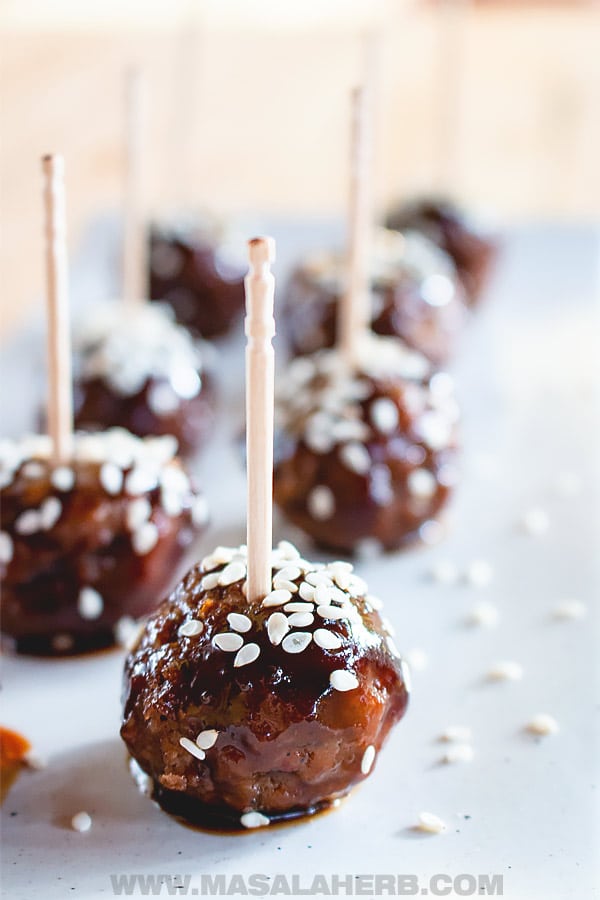 ~~~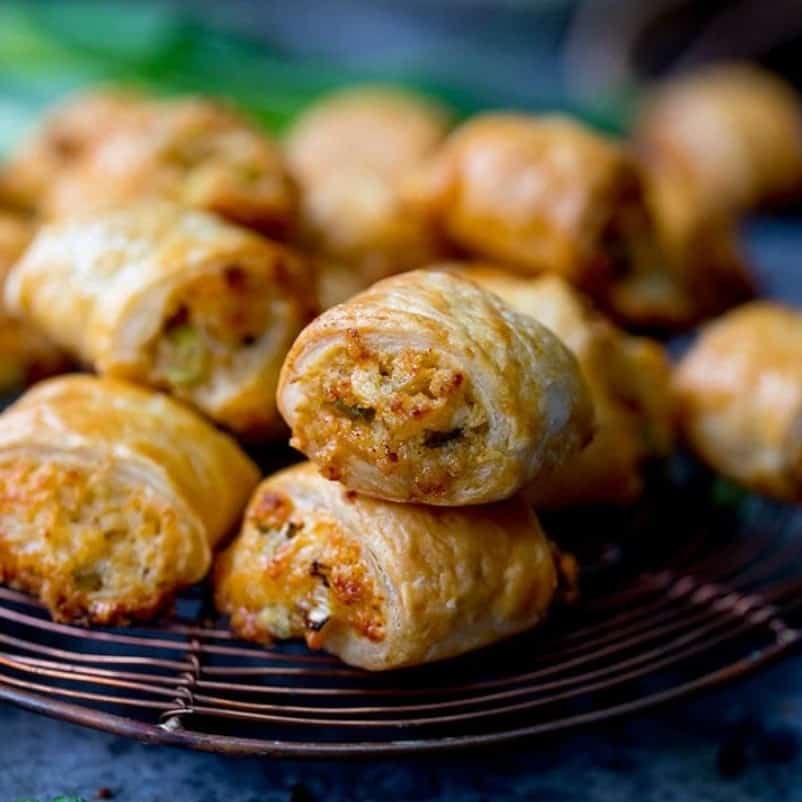 ~~~
~~~
Spicy Jalapeno Deviled Eggs Recipe
Spicy jalapeno deviled eggs for your party. You can double the recipe easily to make a bigger batch. These are keto low carb and gluten-free deviled eggs
Get the Recipe
~~~
Mini Pizza Bites
Individual pizza bite party appetizer or snacks to feed a crowd. Great for adults and kids alike.
Get the Recipe
~~~
Skull Mushroom Pizza Bites Recipe
A Halloween party food special with skull mushroom pizza bites. It takes only about 20 mins!
Get the Recipe
~~~
~~~
~~~
~~~
~~~
~~~
Cream Cheese Bacon Puff Pastry Appetizer
A quick and delicious oven-fresh appetizer with bacon cream cheese over flakey puff pastry.
Get the Recipe
~~~
~~~
~~~
~~~
~~~
Spicy Avocado Crostini Appetizer
Healthy, vegan tantalizing spicy avocado crostini. Surprise your guests and loved ones with this easy appetizer!
Get the Recipe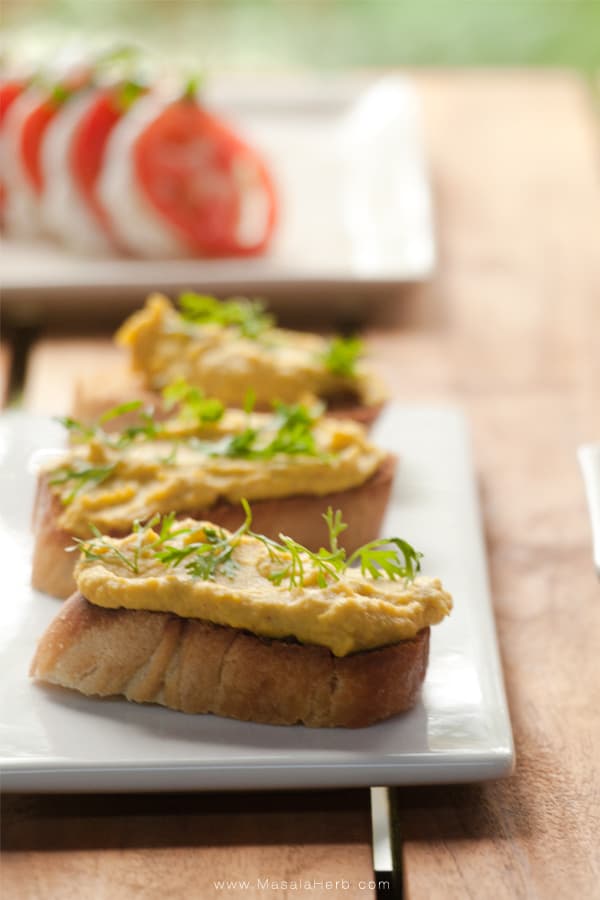 ~~~
~~~
Lox Spread Recipe
Creamy full flavored lox spread. Make this quick and easy spread any time of the day. Make a bigger batch and store in an airtight container in the fridge. Makes a great party appetizer cheese spread too over crackers!
Get the Recipe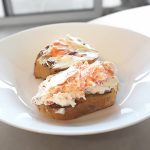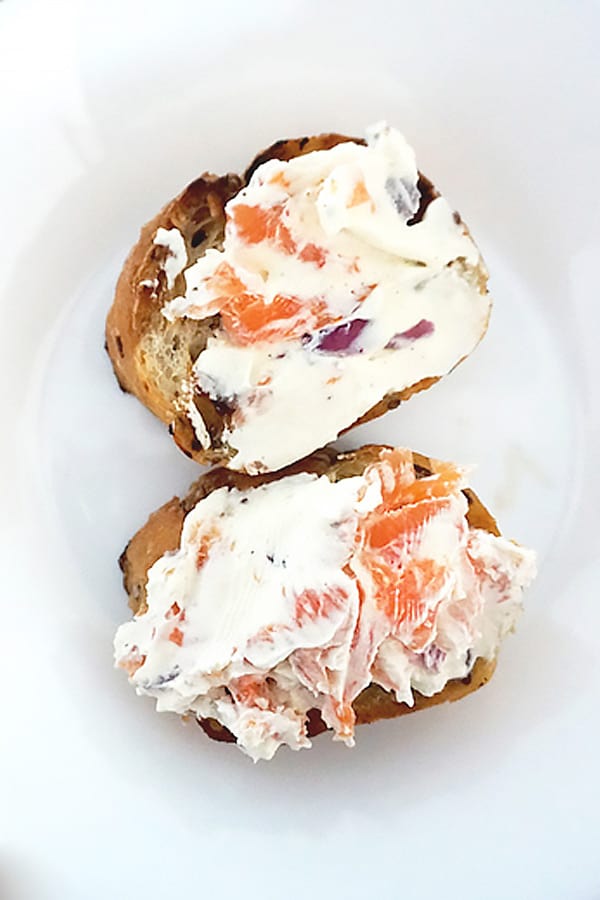 ~~~
~~~
Vegan Caviar Appetizer Bites
Prepared with plant-based ingredients only. Surprise your vegan party guests!
Get the Recipe
Dear Reader, Which one of the Amuse Bouche ideas are you planning to make?