You know how much I love tarts and quiche, don't you? Nothing compares to a freshly baked sweet apple tart, you would agree right? But, and here comes the but, the world of tarts and quiches is much bigger then one could imagine, in fact it has extended it's borders from France to the rest of the world, which in turn means that we not only enjoy the common traditional recipes, but also a whole range of mixed national flavors and that all in one tart or quiche.
This is completely acceptable and I welcome the food revolution with open arms. An open mind towards food and its uses can be even enlightening and that just enhances our taste experience. Take for example the Pizza. Pizza must be the most loved meal in the world and there are countless versions and topping opportunities. So why wouldn't that work with other dishes?
-> Get the free Masala Herb Newsletter
I know a couple of Tart and Quiche recipes! Not all my recipes have been posted yet but a few have found their way on this page (more are for sure to come!). The base is always the same in all recipes, the "fillings" are often extremely different. You will recognize a few traditional recipes as well as some West meats East Tart and Quiche recipes. Further you will find that the first few recipes might go well as small appetizers and some savory tart and quiche recipes are perfect weekday meals and of course I haven't forgotten about the sweet teeth amongst us, including myself.
Here we go with 10 Tart and Quiche Recipes!
——————————————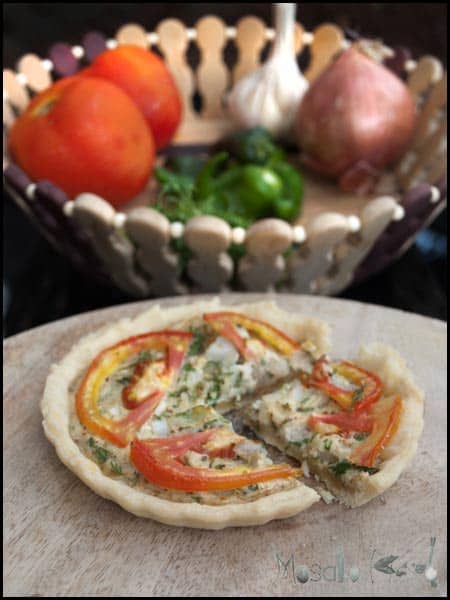 ——————————————
——————————————
——————————————
——————————————
——————————————
——————————————
——————————————
——————————————
——————————————
---
The following two tabs change content below.
I am Helene, and created Masala Herb to share my food and travel journey with the whole world. You will find Asian and Western dishes here, as well as unique travel guides to inspire your day. Don't miss a post! Subscribe to the free newsletter!
Latest posts by Helene Dsouza (see all)