Albertle are stamped cookies from South Germany, Bavaria. The Albert Christmas cookie is decorated with a design on top and stamping them is an innovative way to decorate these popular cookies. Get the recipe below with step by step instructions.
Albertle cookies are a common sight in most homes in Bavaria. In Austria they can be seen in certain places, however they are not part of the traditional cookie making process during the Advent time.
These delicious stamped cookies are quick, easy and fun to prepare, especially with kids. That's why the popularity is rising constantly for the humble Albertle cookie.
A mystery remains… The origin of the name "Albertle" is a big question  mark. I checked around online and asked some people from around Augsburg city, nobody had a clue how that cookie was named Albert.
Maybe a reader might turn up who can contribute with a story around the Albertle cookie.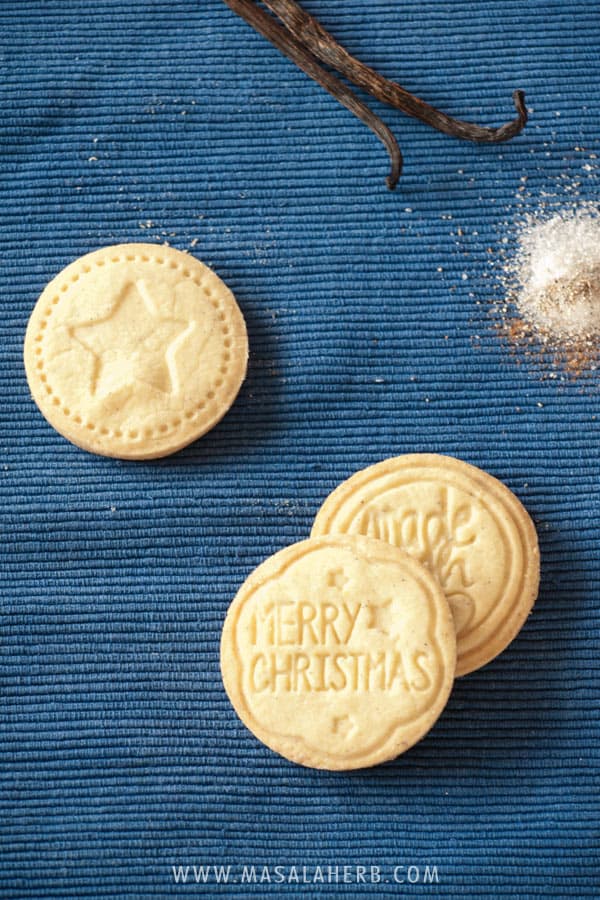 The cookies itself is made with some common ingredients including flour, corn flour, egg, sugar and baking powder. I like to add vanilla bean seeds, some cardamom and cinnamon powder to give the stamped cookies the extra edge.
Long a trend in the US & Canada, stamped cookies have caught up in Europe, thanks to popular shops and discounters selling those cookie stamp sets.
I haven't come across those in Asia however it won't take long for cookie stamps to appear in countries like India. My dear Indian readers, look out for cookie stamping sets, they will be the part of the next baking trend in India!
Preparing stamped cookies can be so much fun, even for grown ups. They are easy to prepare and you can't mess anything up. I mean just cut out and stamp the cookies and you have THE perfect looking cookie, which makes great gift material.
The time before Christmas is known as Advent time. This is the period of the year where we make as many different cookie types as possible. At the end most homes get around making 10 different cookie flavors from scratch.
Common cookie flavors in my house include
Making cookies during Christmas from scratch is a fun activity! The cookies I pick are easy to recreate and they will cover your cookie needs this Christmas.
It is a tradition to gift a box full of homemade cookies to neighbors and friends. It helps in keeping the community together and the best way to unite people is with food made with all your heart.
Albertle stamped cookies – How to make stamped cookies?
Albertle Stamped Cookies - German cookies - How to make stamped cookies
Albertle Stamped Cookies - German cookies - How to make stamped cookies Recipe Type : cookie Cuisine: german Author: Helene D'Souza Prep time: 30 mins Cook time: 12 mins Total time: 42 mins Serves: 30 cookies Albertle cookie can be easily prepared at home and are the perfect cookie to make with children. YPick your favorite stamp design to make the Albertle cookies.
Ingredients
250 grams Butter or 1 cup
1 big Egg
pinch Salt
125 grams Sugar or ⅔ cups
½ Teaspoon Baking powder
scratched out black paste of a Vanilla bean - aka Vanilla bean seeds
optional: 1 Teaspoon Cardamom powder
optional: 1 Teaspoon Cinnamon powder
300 grams all purpose Flour or 2½ cups
70 grams Cornflour or ½ cup
Instructions
In a mixing bowl beat the butter, egg, salt and sugar fluffy. Then add in the remaining ingredients baking powder, vanilla bean black seed paste, cardamom powder, cinnamon powder, all purpose flour and cornflour, Mix everything well and beat to a smooth dough. Let the dough rest for at least 30 minutes in the fridge, the dough needs to be cold so it will be easier to roll out and cut the cookies.
Before rolling out the dough, preheat the oven to 180 Celsius.
Add enough flour to your working space so nothing sticks and roll out the dough to about a 3-4 mm thickness. Then use your cookie cutter/stamp to cut and stamp all your cookies. Repeat the rolling out and cookie cutting process until you use up all the dough.
Prepare your baking sheet with parchment and place the dusted cut out cookies on the paper. Make sure to keep at least 3 cm space between each cookie. Bake for about 10 minutes at 180 Celsius.
Prepare a cookie box with some parchment and store the cookies in there.
Notes
recipe based on Naumann & Göbel
3.5.3226
Which stamp design would you like to use to make these cookies?
Save
You might like...
The following two tabs change content below.
I am Helene, and created Masala Herb to share my food and travel journey with the whole world. You will find Asian and Western dishes here, as well as unique travel guides to inspire your day. Don't miss a post! Subscribe to the free newsletter!
Latest posts by Helene Dsouza (see all)
This post may contain affiliate links, and I receive a small commission when you click through and purchase. It basically buys me my daily coffee and cheese, and yes, my flour so that I can make pizza for dinner!