It started to rain last week properly when all of a sudden the seasonal Indian monsoon halted. That means we are back to the heat and lighter food! However, before we ended up crying for rain once again, I had finally got around to prepare this exciting mushroom masala – mushroom curry recipe.
I know I have been a bad girl lately with my posting habits here. Luckily I had already posted all my main favorite dishes at Masala Herb so you still had that at least. The main reason is of course this years heavy Indian summer season and another "excuse"  are my upcoming plans for the next months but more about this another time. Right now we ought to take in the aromas of this mushroom masala, the mushroom curry recipe will take over your senses, I can promiss you this!
-> Get the free Masala Herb Newsletter
It' s not as if I had no material to write about. Oh no, in fact I have a few upcoming food and travel posts! I just feel I need a few more hands, not brains, just simply some help maybe. Well, I could present you a post every single day but then I would need to cut down on the quality in general. So basically it would mean common recipe dishes, uglier pictures and just a few words about the preparation. Personally I don' t see this as the purpose of Masala Herb. This place is about learning and sharing useful knowledge. It' s about getting inspired (btw check out my new Pinterest board musings corner at Masala Herb!) and most importantly about simplifying our food and travel lives! Do you see my conundrum?
What do you think? Are you longing for more simpler recipes here at Masala Herb?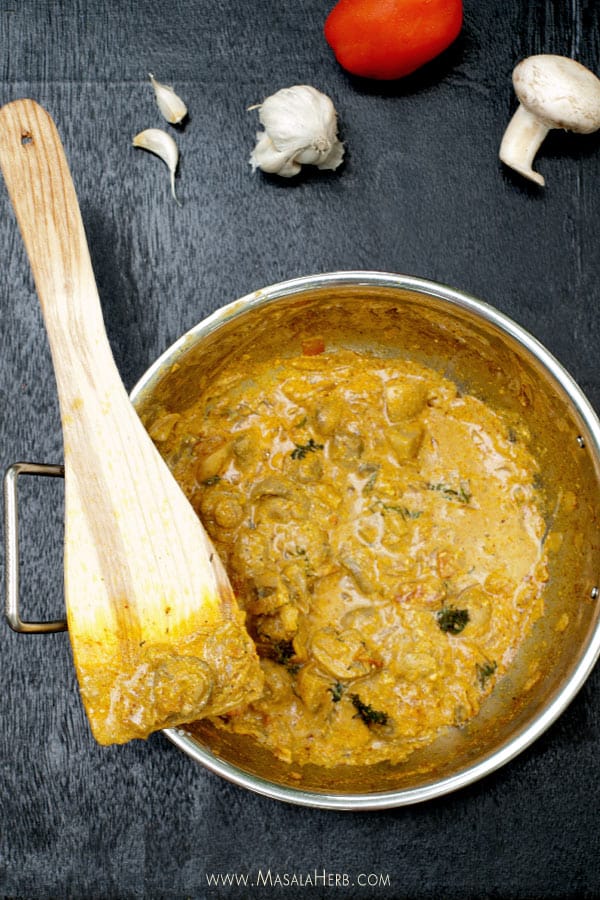 Anyhow… As you know I love quick and easy and of course mouthwatering good Indian food dishes. Sometimes a spice kick makes you feel alive, although remember I am not a fan of spice bombs either. The first time I came across a mushroom masala was at a wedding. It wasn't that tasty and rather liquid but I liked the idea of a mushroom curry that I started to imagine the right ingredients for a smashing recipe. And thus a quick and easy mushroom masala was born!
You will need some of the basic spices, commonly used in the Indian cuisine, such as chili turmeric coriander seeds and cumin. Also a dollop of homemade inviting ginger garlic paste will give your curry another sexy flavor twist. In three words, comforting home food! I like to cook it during the monsoon or during colder days (not that we have experienced cold days recently). By the way it' s vegetarian and I use Olive oil for flavor and because of the health factor. Let; s get to the recipe…
Do you like Indian curries? I may recommend my quick and easy chicken curry, goan meatball curry, easy and quick paneer korma, easy potato cauliflower masala, easy butter chicken, as well as a collection of 18 fantastic chicken curry recipes from India.
Mushroom Masala – Mushroom Curry Recipe below:
Mushroom Masala - Mushroom Curry
A medium spiced vegetarian Mushroom Masala - Mushroom Curry which is a great weekday dinner idea. Serve with plain cooked or bread.
Ingredients
1 medium onion
1 medium Tomato
250 grams Mushrooms
1-2 Tablespoon Olive Oil
1 Teaspoon Chili Powder
¼ Teaspoon Turmeric Powder
1 Teaspoon Cumin Powder
1 flat Teaspoon Coriander Powder
1 Tablespoon Ginger Garlic Paste
30 milliliter Water
4½ Tablespoon Yogurt
1 Tablespoon fresh Cream
fresh Coriander (Cilantro) chopped
Instructions
Rinse and chop your onion and cut your tomato into cubes. Rinse your mushrooms, tap dry and cut off the mushrooms ends. Half or quarter the mushrooms if they are big in size.
Add the oil to a pan and fry first the onion translucent then add the tomato. Stir fry short and continue to add in the chili powder, turmeric powder, cumin powder, coriander powder and the ginger garlic paste. Stir fry for a minute.
Now add the mushrooms and stir fry for 2 minutes. Pour in the water, throw in a pinch of salt and pepper, mix the content well and stir cook for about 5 minutes on a slower heat until the mushrooms are soft.
Add the Yogurt to the mixture and the cream too. Mix the content well and let it cook for another 1-2 minutes so that the flavors can incorporate well.
Garnish with freshly chopped coriander.
---
You might like...
The following two tabs change content below.
I am Helene, and created Masala Herb to share my food and travel journey with the whole world. You will find Asian and Western dishes here, as well as unique travel guides to inspire your day. Don't miss a post! Subscribe to the free newsletter!
Latest posts by Helene Dsouza (see all)