Sometimes our heart aches for food that seems light but satisfies the inner cravings of an omnivore. Crepes parcels can be just that, a dish to awaken your feeling of completeness. The feeling appears already after the first bite and remains still with the last bite.
Take me directly to the Recipe!
Savory crepes are often quite forgotten in this world of sweet teeth and sugary monsters. I personally enjoy savory crepes in all forms. Remember my savory crepes with prawns, broccoli covered with hollandaise sauce or the traditional north french crepes ficelle picard recipe I posted here years ago? It's still a classic in my home and the savory crepes with ham and egg, aka the Galette Bretonne, is another favorite among us all.
The original Galette Bretonne, also known as Galette complete, is called that way because they are not just made with simple wheat flour. They earned that name because Buckwheat flour is added to the liquid dough and the doug his made with water instead of milk. That's what makes the difference to a regular Crepes recipe.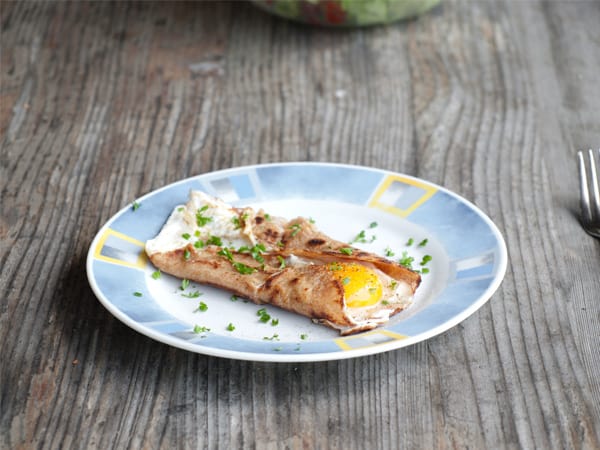 I am an advocate for healthier varieties of grains, so this is a great way to use some buckwheat flour in your cooking. Now if you don't  get around buckwheat, then you can just omit it and equal the amount with regular flour. However, I would suggest you check out that grain.
Often while ancient grains tend to be cheaper in some parts of the world. For example in India, local crops are ancient grains, so you do get these flours in local markets if you know how to look for. The only problem you might have in a country like India, are that the various languages can complicate the identification of grains. While it's easier to recognize a grain, it's a bit more difficult to find out about a flour, which is packet in a loose plastic bag without a name on it. Therefore, especially in India – a country of many languages – identifying foods can be quite a challenge.
-> Get the free Masala Herb Newsletter
That's why I have been toying with the idea of a small index database for local food items. The aim would be to mention grains and spices etc at first in 2-3 languages including English, so to identify food ingredients for those who want to come across different local food ingredient varieties. We have been working on this project for a while, had to break it up in between, but will be continuing this in the near future because there is a certain necessity for such a database.
If you want to participate with your knowledge, you are much welcome! Just send in a mail via the contact form or contact me via the various social networks such as Twitter, Facebook page or Pinterest.
But now let's get to the recipe for french savory crepes with ham and egg – Galette Bretonne!
Savory Crepes with Ham and Egg - Galette Bretonne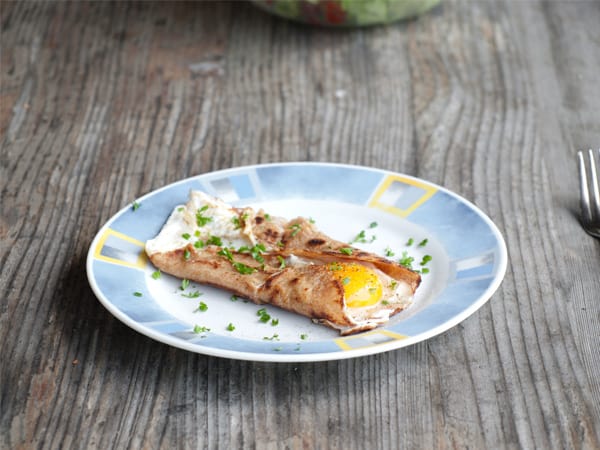 Recipe type:
egg, brunch, lunch
Serves:
Serves 2-3 Person
A layered savory crepes parcel filled with ham, cheese, egg and herbs. Best served with a simple green salad with vinaigrette.
Ingredients
For the Crepes/Galette:
90 Grams Whole Wheat flour
30 Grams Buckwheat flour
1 Egg
pinch Salt
25 milliliter Water
For the frying:
The filling:
ham slices
cheese slices
Eggs
pinch Salt
pinch Pepper
fresh cut Chives
Instructions
Mix all the Crepe ingredients together to a smooth liquid dough. It has to be more liquid or you won't be able to spread it well into the hot pan while frying, because you need thin Crepes.
Then heat up your pan, add ½ Tablespoon Butter to it. Add nearly 1 ladl of liquid dough to the hot oily pan, spread well by turning the pan quickly and fry both sides until they are a bit golden.
Then add a slice of ham onto the Crepes/Galette and a slice of Cheese. Continue by breaking the egg into the center of the ham Crepes. Season with Salt, Pepper and add fresh chopped Chives. Carefully close the Crepes by folding in on both sides or all 4 sides so to create a parcel. Cook further until the egg is done.
Serve warm directly.
Do you like savory Crepes? What's your favorite savory Crepes recipe/dish?
You might like...
The following two tabs change content below.
I am Helene, and created Masala Herb to share my food and travel journey with the whole world. You will find Asian and Western dishes here, as well as unique travel guides to inspire your day. Don't miss a post! Subscribe to the free newsletter!
Latest posts by Helene Dsouza (see all)
This post may contain affiliate links, and I receive a small commission when you click through and purchase. It basically buys me my daily coffee and cheese, and yes, my flour so that I can make pizza for dinner!