Sometimes I wish we all spoke the same language in the world or at least here in India. There are so many languages in this country and all those languages have their own dialects, sometimes you don't even understand somebody who originates from a neighboring region. Take for example Goa, such a small tiny state, the smallest of India. The northers locals have trouble to understand the southern folks and vice verse. Often its a problem, especially when you are looking for a name of something. That was the case a couple of days ago, when I had come home with some fruits from the mapusa market. There they were lying, the so called Amadi or Amade! I knew what to do with them and I had a name, but that name proofed to be useless again while searching for some information online.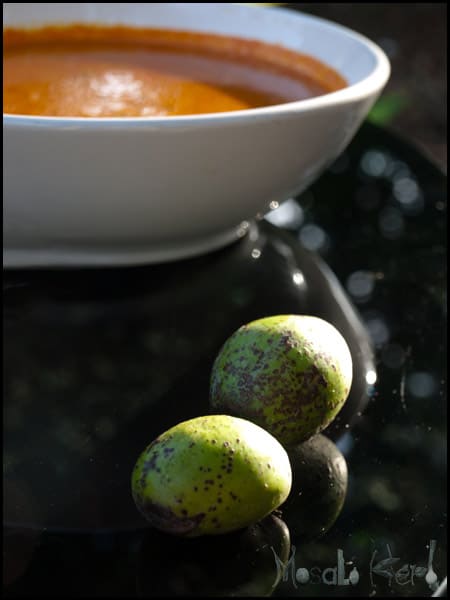 You guys know, that I like to research and dig around, especially when its about food and unique things. Here I was, googleing in despair, not finding what I was looking for. There was only one solution to this, forward the question to my dear Twitter followers. You share a question and you ll have a couple of people brainstorming and helping you out. Awesome! By the way I want to thank those kind souls who took the time to find out more about this fruit in the picture. You are the best my tweeps!
So, what did we figure out… This Amadi fruit, also known as Ambade in Konkani & Tulu, Amberella in Sri Lanka, Pulicha kaai in Tamil is mostly globally known as Spondias, Hog Plum, Spanish Plums, Libas and Mombins. There are a couple of different kinds  of spondias, so I am not sure what the one in the picture is called exactly. It grows in south India, in a humid and tropical climate and there is only one type around that is known to the locals. The fruit itself looks very plain, kind of like a tiny mango, 2 inches big in average. The skin is not more then a Millimeter thick and the flesh maximum up to 0.5 Centimeters the rest is a seed core. Apparently other spondias types have lots more flesh hanging on the core, so if you think you have found a spondias, it might just be a different type but from the same family. It is said that the Hog plum originated in South America and came later on to the African continent and further even to the tropical South Asian lands.
In my research I discovered that in South America it is commonly used to make syrups, jellies and even vinegar. Yet in Africa it seems to be less popular, but in India it is a common addition to Curries. Especially, now is the harvesting season of the fruit and you will see them being sold in the markets around. You have to know that the Hindu community is celebrating the birth of their Saint Ganesha and the celebration are going on right now as I am writing this and they will continue for a couple of more days. Our neighbors are Hindus and they always send over some of their Vegetarian delicacies during their celebrations. One of those treats is a delicious sweet, tangy, spicy Ambade Curry. I had mentioned here before, that the Curry of a Hindu family is often extremely differently cooked compared to our Catholic Curries. The Hindu Families eat much healthier and they own a vast knowledge of wild ingredients here around. Often I find myself asking some of the Hindu friends in the vicinity, for tips and advice on what is edible and how it should be cooked. That is how I learned to prepare the Ambade Curry from my friend.
Some Vegetarian Ganesh Specialities
Another fact, that I found while surfing online, is that the fruit seems to be rich in Vitamin C and B1. I had a feeling that it is a good source of Antioxidants, since it is a very sour fruit. Normally you suckle the flesh of the core and you twist your face expression like a monkey, except if you add it into the curry. The sweetness of the Jaggery sugar and the spice of the chillies balances the extreme sourness. We love that, that's why we can't stop eating that curry! The fruit flesh is eaten as well, while savoring the Curry with some Rice or Roti. Just suckle the flesh of the seed core and discard the core. The flesh will be nice sweet, spicy and some sour tangyness should be left as well.
Ambade Curry – Spondias, Hog Plum
Ingredients
7-8 Spondias Fruits
dash Salt
handful Jaggery
1/2 Tbs Black Mustard Seeds
a few fresh Curry leaves
1/2 Coconut scraped
5-7 red spicy Chillies (Normally small Piri Piri Chillies should be used, but I used Kashmiri Chillies instead)
1 Tbs Turmeric Powder
600 ml Water
Instructions
To prepare the fruit, rinse it first, then peel it carefully, so that you don't take off all the good flesh. Do that with all fruits and place the peeled fruits into a bowl. Add Salt and Jaggery and mix it well. Keep standing for 30 minutes at least.
After some time you will realize that lots of liquid has come out of the fruit. It should look like on the picture. Time to cook the Curry now!
Now make the Curry paste first, by mixing half of the scraped coconut, the chillies, the turmeric powder and some water to a smooth paste. You should have a nice yellow orange paste!
In a pan add little oil and temper the Mustard seeds. Be careful because they jump out while heating up. After that add the Curry leaves and the salty, sweet spondias fruits with the extracted liquid, stir fry for a short time.
Directly continue to pour in the paste and keep on stir frying. Now add all the water as mentioned in the ingredients list and mix it well. Throw in the rest of the scraped coconut and mix again.
Keep it on slow flame for about 30 minutes to cook, so that the different flavors get some time to incorporate with each other. Stir frequently in between! Serve with rice or chapati hot.
Notes
The Original recipe mentions to add the small very hot red Piri Piri Chillis. unfortunately I couldn't get them in time so I was forced to work with the Kashmiri Chillis. You can use any spicy red Chilli type here and you can add as many as you wish, that's all up to you.
http://www.masalaherb.com/2012/09/ambade-curry-spondias-hog-plum.html
© Helene Dsouza 2012
Only one Spondias fruit popped out of the Curry, the others just didn't want to show themselves in the pictures.
You might like...
The following two tabs change content below.
I am Helene, the author behind Masala Herb! My aim is to show you an incredible world full of surprises. Food, Culture and Travel are my forte and that's what I enjoy. Follow my Food and Travel adventures and learn some incredible things! Now in the beautifull Indian coastline state, Goa.
Latest posts by Helene Dsouza (see all)