When I think of Mirabelle, I imagine green orchards and a comfortable warm summer breeze tickling tree leaves, all this in an other time. The Air is fresh, the world seems sleepy and so very peaceful! Maybe I see some kids playing down the river or even 2 girls sitting and reciting popular poems, good laughs and sweetness are ever so present. An enchanting, mesmerizing deep lucid dream…
In our homes in Austria and France, a Mirabelle Tart is a common sight, especially in the summer months, since we own a Mirabelle plum tree. I, and many others will nod in agreement, that this yellow prune is truly natures master work! The flesh is juicy, middle soft, yellow, sweet, emitting a pleasant fruity fragrance. All that might just sound like an other fruit between so many other type of fruits. Here, however it's like as if the angels themselves came down to share with us a memory of heaven.
-> Get the free Masala Herb Newsletter
In Austria, precisely in Salzburg, a palace of the former empire is known as "Schloss Mirabell". It was build by a archbishop for his secrete beloved around 1600. First it was called "Altenau" which they changed later into Mirabell. The word Mirabelle (mirabilis) originates from Latin, meaning "wonderful" or even "beautiful to look at" and in Italian it is a common girls name.
Some years back I had the chance to visit the city owned palace and its gardens with my family. Unfortunately, though I don't have any photographs to show you of that trip, but anyway that's not the point here.
Since I had visited this palace, I had associated the delicate yellow prunes with the palace gardens. Sitting there I imagined an other time and it's people, a world where everything seemed to be simpler and still so mysterious. For some time I  kept on observing the garden, listening sharply and waiting for the nightingales song. I couldn't here it, instead I rather heard the rattling leaves of a chestnut tree and a cuckoo bird near by.
Nevertheless, this nice warm day comes back into my memories whenever I see or perceive the fragrance of a Mirabelle plum. At that moment I get absorbed by my imaginations and I literally see myself in a wonderful Rococo dress and nightingale near by sitting on a heavy Mirabelle tree branch with lots of fruits. Or sometimes I simply see the previously mentioned green orchards and village kids down the river. Or maybe I even get to remember the Mirabelle vendor in "The Perfume" with her basket and the fresh fruits.
When I take a bite of our home made Mirabelle Tart, I get immediately further absorbed as if every time I would sink deeper into this world, as if I was time traveling! I discovered a way to time travel and then too merely by recreating a tart. Well, in fact it's not just any tart, it is a complete inspirational masterpiece of a baked tart, my families home recipe, an other sophisticated french pastry, which everyone should have experienced in their lives. Maybe then you will be able to cross the gates between the worlds and let yourself go into the eternal imaginary bliss….
Do you have a food, which makes you dream?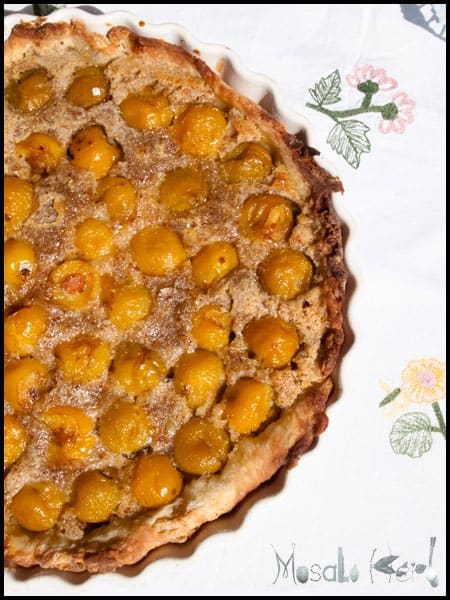 ---
Shop now at Masala Herb!
Handmade Collapsible Wooden Bowl – Papaya Shape
---
You might like...