What would be India's cuisine without the humble lady finger? It would be indeed a punch in the face for many living in the subcontinent. If you are wondering why some folks eat woman's fingers, then I better quickly clear up the confusion! Lady fingers is a little healthy vegetable also better known as Okra in this world. It is one of the main staple foods in south Asia and some parts of Africa, and the origin is disputed between these two locations. Anyway, many people out there will agree that they would have trouble to plan their meals if the lady fingers weren't available in their markets. That's why I thought it was about time to share the best lady finger recipe I know and which I treasure too!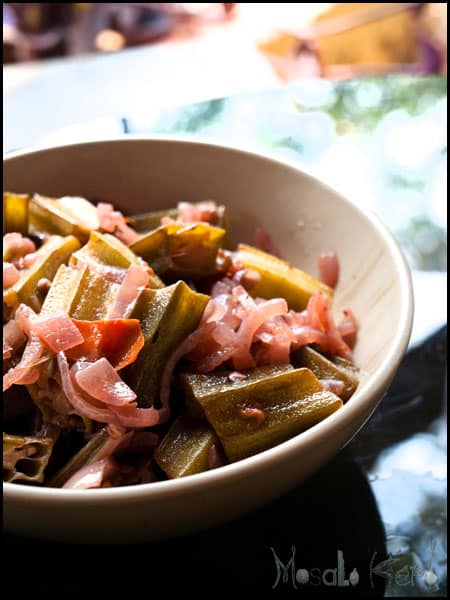 In Goa we call the vegetable Bhende, in Hindi it is also known as Bhendi. It is usually harvested at a later stage, compared to some cultures who prefer to use them at a younger stage. You will always recognize a Lady finger on 1 thing! When you cut the vegetable, you will notice some slime. When you further cook it more slime comes out, which looks really ugly sometimes. Fortunately there is a trick to get rid of all that gooiness, by adding a few acidic drops, such as lemon or Vinegar. Some people simply stir fry it for a while till the slime dissolves, some prefer to cook it without opening the pod, so to elude the slime "disaster".
I was introduced to the vegetable in college time but due to the fact that Austria doesn't even have fresh sea fish and even less exotic vegetables, I had only received a description of it from a book, and certainly didn't have a chance back then to cook a yummy plate of it. My husband's family taught me different culinary uses for the vegetables, so I was finally able to use them in our diet! Goan cooking has many tricks in their recipes which I respect immensely, so I always get surprised by a new revelation of ingredient usage. That was the case as well with the Lady finger when I was told to add a couple of Kokam peels. Kokam is a dark red Indian plum type. The peels are dried in the sun and later on used while cooking savory and sweet dishes. For a Goan Lady finger Bhaji, Coconut vinegar and Kokam peels are used to give the dish a unique flavor and color. In my opinion, the combination of Lady finger and Kokam is simply brilliant and with the sweet coconut acidity it gives it all a smooth comfortable round up. And since the Vinegar is acidic, it helps in destroying the goo in the dish.
This Lady Finger recipe is pretty easy and quick to recreate, and I am sure you ll have a blast with it as I did and still do! Click on the links, to check out more infos about Indian bhaji's and bhaji types.
Ah, by the way! You guys remember that I had brought seeds, such as gourds, chilli and soya, to Austria when I had visited my families house some while back. Well, some of them grew and some didn't at all. Unfortunately the weather was literally crap! I mean, I have never witnessed snowfall all of a sudden mid May! So some didn't make the cold 5 Celsius, some never even tried to grow and I guess some seeds were simply corrupted ( I ll catch up with the merchant later!). We managed to grow some chilli plants, soya and a gourd type, as you can see on the picture underneath. My mum is continuing her try outs right now, and we hope to give you soon good news, so that you guys can try to grow your own exotic ingredients in your garden in Europe and the US.
Lady Finger Bhaji (Okra/Bhende)
Ingredients
250 g Lady fingers
1 medium Onion
1 small Tomato
dash Coconut Vinegar
2-3 dried Kokam peels
pinch Salt
pinch Pepper
1 cup water
Instructions
Rinse the Lady Finger and discard the ends. Cut the Vegetable into 3-4 cm long pieces.
Slice the onion and cube the Tomato. Fry first the onion for 2-3 min till glossy in some oil, then add the cut tomato and further fry for 2 min.
Add in the Lady Finger pieces and stir fry for a min. You will notice that the Ladyfingers are emitting a slimy substance. That is normal. To get rid of the slime add the Coconut Vinegar.
Season quickly with Kokam, Salt and Pepper and add in the Water. Mix well and cover the pot to simmer on slow flame. Allow it to cook for 15 min and then check if the vegetable is soft and ready to be served, if not cook a couple of minutes more. The Lady finger should be cooked, a bit crunchy and not mashed!
Serve hot with Rice and curry or enjoy the vegetarian dish plain!
http://www.masalaherb.com/2012/07/lady-finger-bhaji-okrabhende.html
© Helene Dsouza 2012
You might like...
The following two tabs change content below.
I am Helene, the author behind Masala Herb! My aim is to show you an incredible world full of surprises. Food, Culture and Travel are my forte and that's what I enjoy. Follow my Food and Travel adventures and learn some incredible things! Now in the beautifull Indian coastline state, Goa.
Latest posts by Helene Dsouza (see all)